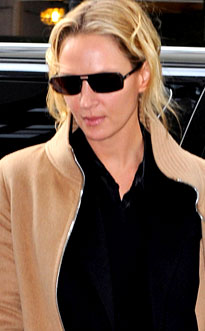 AP Photo/ Louis Lanzano
Uma Thurman's overzealous (to say the least) fan isn't a stalker—he's an opportunist. At least, to hear him tell it.
Jackson William Leslie Jordan, the man accused of stalking and aggravated harassment of the actress, took the stand in a Manhattan courtroom this morning, insisting that, despite garnering the exact opposite response, his romantic (or, as Thurman describes it, "creepy") overtures to the Kill Bill star were not meant "to scare her in any way."
"In a misguided way I was trying to give her an opportunity to meet me and give myself an opportunity to meet her," testified the former mental patient, who made repeat and unwanted visits to her home and movie sets and sent unsolicited emails and letters to Thurman and her family.