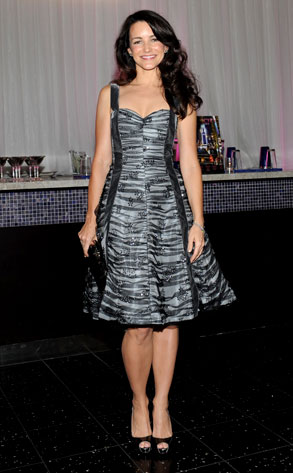 Courtesy Skyy Vodka
There may not have been an official Hollywood premiere of Sex and the City: The Movie, but L.A. still got some Sex. Last night, Skyy Vodka hosted an advance screening at the ArcLight to benefit AIDS Project Los Angeles.
Kristin Davis (who has one of the funniest scenes in the film) was on hand for the charity event and to field burning questions from the audience, who discovered she's not like Charlotte York, her WASPy, old-fashioned character, at all.
"When I was young, I thought, I never wanna get married, because I lived in the South and that was all anybody talked about," the former South Carolina girl dished. "All I wanted to do was come to New York and do theater. I did not want to be relying on some man!"
During her 30s, Kristin said she was too busy with the show for a relationship. Now, at 44, she's more open to the idea.
Although she did get a little Charlotte on us when asked which of her male costars turned her on the most.
"I can't answer that question," she giggled demurely.
As for revealing the cast's biggest diva...