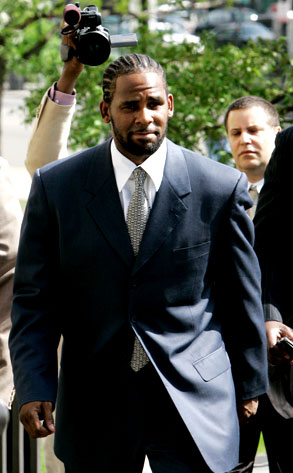 AP Photo/Charles Rex Arbogast
The tape shown in court last week that prosecutors say shows R. Kelly having sex with an underage girl was not edited to make it look as if something entirely unreal was taking place.
Probably.
George Skaluba, a forensic video analyst for the FBI, testified Thursday during the R&B star's child-porn trial that the copy in the court's possession depicts "real people in a real environment," although he couldn't be absolutely certain that the original wasn't doctored in some way.
Skaluba couldn't determine how many levels of copying the tape currently in the court's possession went through, but he concluded it would have been costly and "very, very time consuming and very hard" to manipulate the faces and/or the actions of the male and female on the original copy.
Skaluba's testimony punctures the defense's argument that the tape, whose "stars" have been positively identified by multiple prosecution witnesses, is a fake. However, the alleged victim, who's now 23 and was said to be 13 or 14 when the video was made, has since denied being Kelly's costar.
Meanwhile, prosecutors told the judge they need more time to interview a new potential defense witness before he's allowed to testify, ostensibly to refute the testimony of their theoretical star witness—a woman who's reportedly planning to testify she engaged in a threesome with Kelly and the girl.