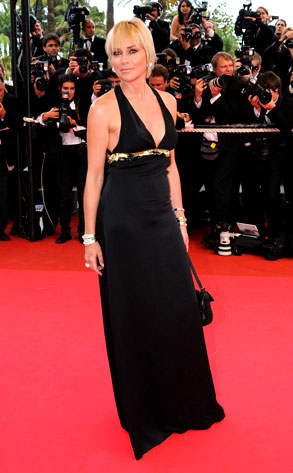 Tony Barson/WireImage.com
UPDATE: Sharon Stone's mea culpa isn't going over too well on the other side of the Great Wall. Organizers of the Shanghai International Film Festival have permanently banned the actress and her films from any future involvement in the fest.
_____________________
Sharon Stone wasn't wrong about karma. She was just wrong about who exactly would be on the receiving end.
The loose-lipped actress has apologized for comments made on the Cannes red carpet last week, insinuating that the devastating earthquake that rocked China, which so far has claimed more than 68,000 lives, could be chalked up to karma for its treatment of Tibet.
"Due to my inappropriate words and acts during the interview, I feel deeply sorry and sad about hurting Chinese people," the 50-year-old firecracker said in a statement. "I am willing to take part in the relief work of China's earthquake, and wholly devote myself to helping affected Chinese people."
Relief may be the only type of work Stone can get in the country for quite some time. The actress' mea culpa came on the heels of haute couturier Christian Dior's announcement that it has dropped spokesmodel Stone from its ads in China, where she serves as the face of Dior's Capture Totale skin care line.
"We just want our customers and fans to realize that her personal comments are not related to the company and of course we don't support any type of commentary that will hurt the feelings of our customers," the company said in a statement.