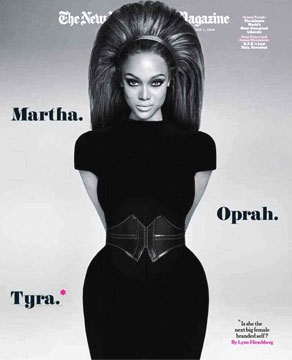 New York Times
Looking like a ferosh Barbie styled by the likes of Christian Siriano, runway coach J. Alexander and Mode magazine's Wilhelmina Slater, multihyphenate Tyra Banks is poised front and center on this Sunday's New York Times Magazine.
While the former supermodel, given her many business ventures, is compared to Martha Stewart and Oprah Winfrey, the cover article reveals what really makes Tyra so talented: She has 275 different types of smiles!
Ah, yes. Yet another trivial Tyra tidbit now taking up valuable real estate in our brains.