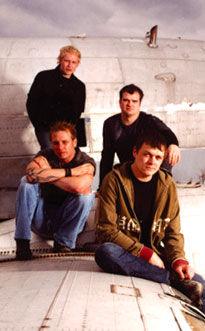 Music fans seem to like what's behind door No. 3—at the expense of Bun B and Dancing With the Stars' Julianne Hough. And maybe Scarlett Johansson should stick to her day job.
Mississippi rockers 3 Doors Down opened atop the Billboard 200 for the second straight time as their new self-titled album sold 154,000 copies for the week ended Sunday, per Nielsen SoundScan. The band, best known for the 2000 megahit "Kryptonite," previously topped the charts with 2005's Seventeen Days.
Bun B debuted at No. 2, selling 98,000 copies of his sophomore solo effort, II Trill. The Southern rapper had been one-half of the rap duo UGK until the December death of partner Pimp C. The late, great Pimp posthumously appears on II Trill, however, with verses recorded before his death.
Hough, the youngest pro hoofer on and two-time champ of Dancing With the Stars, stepped in at No. 3 with sales of 67,000 for her country-music debut. Hough is currently at country radio with "That Song in My Head."