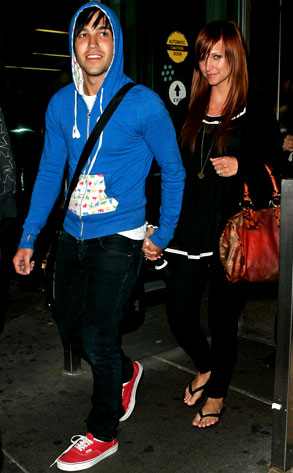 CV-GA/bauergriffinonline.com
Forget that baby bump, Ashlee Simpson has another new appendage.
The 23-year-old newlywed has confirmed she's taken her rocker hubby's name and become Ashlee Wentz.
Pete Wentz said during an interview on Ryan Seacrest's KIIS-FM show last week he wasn't sure what Ashlee's stage name would be—"that's all up to her"—but "legally, she's a Wentz."
According to the popster, professionally she'll go by Ashlee Simpson-Wentz.
"I think that that's something that a woman should do when they're marrying a man," she told People today. "It's a tradition that I think is a great tradition."
Wentz and Wentz, née Simpson, tied the knot May 17 in front of more than 100 of their nearest and dearest at the Encino, Calif., home of the bride's parents, Joe and Tina Simpson.
The mostly black-clad guests were treated to an Alice in Wonderland theme, replete with parting-gift cookies frosted with the words "Eat Me."