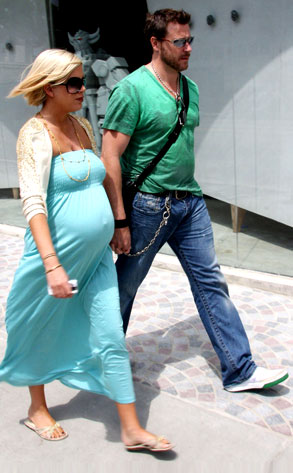 Greg Tidwell, PacificCoastNews.com
After taking a rather unsuccessful stab at running a bed and breakfast on their Oxygen reality series, Tori & Dean: Inn Love, Tori Spelling and her hubby, Dean McDermott, return to Tinseltown for season three of the show, now titled Tori & Dean: Home Sweet Hollywood.
"I chose to go back because it's home and we had such a loyal fan base," says a very pregnant Tori, who is expecting her second child next month.
Now that the two are back in La-La Land with their one-year-old son, Liam, will Tori's estranged mom, Candy, be gracing them with her presence?
"No family will appear, because I didn't want to use them as tools for promoting the show," insists Tori. "There's been so much drama that it will seem more like a gimmick at this point."
So exploiting mommy dearest for the sake of ratings would be wrong, but aiming the lens at your kids around the clock is completely legit. Got it.
Besides, who needs grandma around when the cameras are, according to Tori, "like family to him [Liam]. He's really comfortable."
Grandpa Aaron would be so proud.