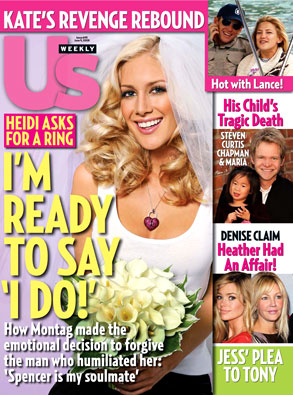 Us Weekly
With all of the staged photo ops and fake feuds, even Speidi must have a hard time keeping track of their relationship status.
But in the latest publicity stunt, Heidi Montag says she is "ready to marry Spencer," or—as she calls her bleached-blonde counterpart—"my soulmate."
According to Us Weekly, the flame was relit (or just reenacted for the cameras) on a not-so-secret getaway to Mexico.
"Heidi read me biblical passages like 'Honor thy wife,' " says Spencer of the make-or-break vacation. How very, um, romantic?
How long now until Heidi breaks down and reveals to Us yet again that they're not actually getting married after all? And if they have to be fake, can't they at least be a little less predictable?