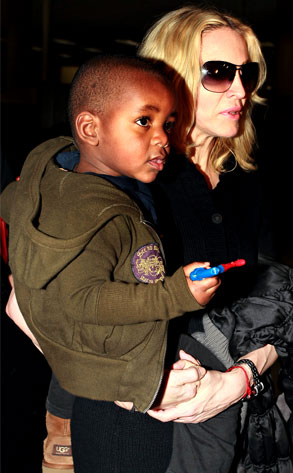 FAME PICTURES
Madonna and child are finally, officially, together.
A Malawi judge has at long last officially approved the singer and Guy Ritchie's adoption of David Banda more than a year and a half after the duo picked up the boy at an orphanage in the south African nation.
Neither Mr. or Mrs. Ritchie was present in court—or the country—for the final ruling, which did see the government staffer who monitored the duo's interaction with the boy present for the sign-off.
"We are very happy with what the judge has ruled," Madonna's lawyer, Alan Chinula, said outside the courthouse. "Finally the court has granted Madonna full adoption rights of the boy...It's all over, thank God.
"It is a positive and beautiful judgment that will have an impact on Malawi's adoption laws."
While the parental action kicked off a global controversy back in late 2006, the process ended quite quietly in Lilongwe High Court Wednesday, when the final hearing for the adoption ruling took place without much fanfare.
Originally scheduled to take place last month, the official court OK has been delayed several times, both due to conflicts with the Material Mama's promotional schedule and to allow time for the judge to once more humor a humanitarian group that has long, and loudly, argued that Madonna's adoption violates current adoption law and opens the door for less well-intentioned foreigners to adopt from the nation.
The Ritchies have been caring for David, who turns 3 in November, in their London home since October 2006.