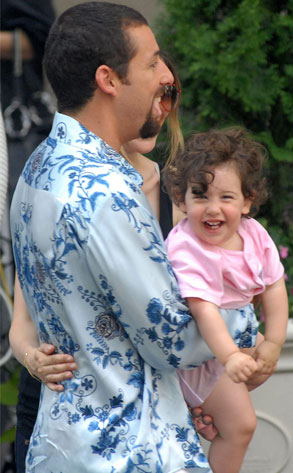 Bobby Bank/WireImage.com
Adam Sandler is about to welcome a little Waterboy—or girl—all over again.
While making the rounds touting his new movie You Don't Mess With the Zohan, the star announced on Wednesday's Tonight Show that he and wife Jackie are expecting their second child together.
"My wife is pregnant. We're having another baby," he said. "She's getting a little size on her. She's three and a half months. It's fun."
For him, at least. For her, well, the sickness isn't necessarily restricted to the morning.
"She's very sick. She's going through a lot...morning, afternoon, the whole deal."
When it comes to explaining the situation to their 2-year-old daughter, Sadie, Sandler is his usual sensitive self.
"Mommy's not really bad sick," he tells her. "She just has something growing in her...that's gonna take half your toys."
Ah, the miracle of life.