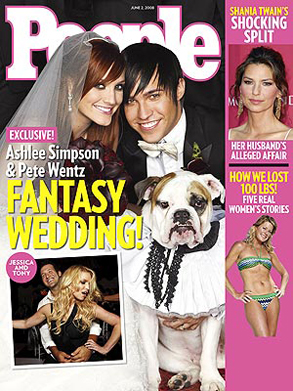 People Magazine
You can stop holding your breath now. The wait is finally over.
The first picture of Pete Wentz and Ashlee Simpson as husband and wife appears exclusively on the cover of the new issue of People—and sister Jessica couldn't be more thrilled.
Let's face it. While the newly married couple look cute and all, it's almost impossible to divert your eyes away from the thunder-stealing photo of the maid of honor bumping and grinding with her beau Tony Romo.
Hemingway the bulldog, meanwhile, just seems embarrassed all around.