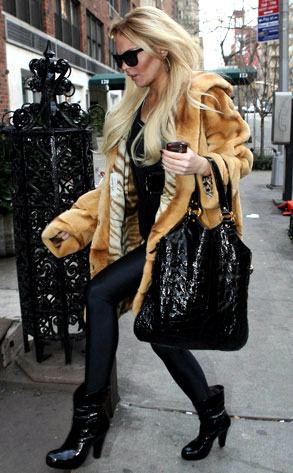 INFdaily.com
She might have her fur back, but the student accusing Lindsay Lohan of heisting some outerwear is not quite ready to chill out.
And, inevitably, PETA has entered the fray. But more on that in a moment.
The attorney for New York college student Masha Markov explained to E! News today why her client ultimately decided to sue Lohan over the purportedly purloined fur coat.
"Negotiations with her lawyers just ended up failing," said Merrill R. Cohen. "They stopped calling us back.
"We got the coat back, but it's not sufficient. She had the coat for several weeks. You don't just return it and that's that," continued Cohen, adding that the $12,000 fur, a gift from Markova's grandma, had a tear in the lining and was stained. (View the lawsuit.)
"If the jury finds the incident is criminal in nature, then [Markova] could get significant damages," said Cohen.
While Team Lohan has remained mum on the lawsuit, her rep spoke to E! News when Markova's allegations surfaced earlier this month and denied the actress swiped anybody's duds.
"This is crazy!" the publicist said. "The bombing of Lindsay has to stop. She is in a good place right now. Why can't everyone leave her alone?"