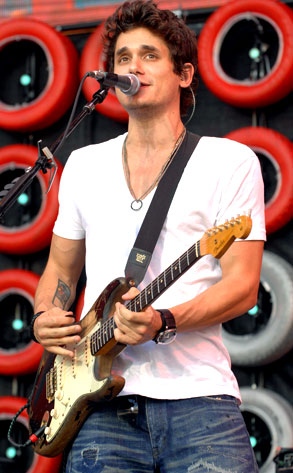 Jason Moore / Zuma Press
Before the record deals, the paparazzi, the Jessica Simpsons and the Jennifer Anistons, John Mayer was just a normal "lanky 22-year-old nobody in an Atlanta folk club [with] a story to tell" (as he personally describes himself from back then).
But apparently there was one person who believed in Mayer from the beginning, and now the singer-songwriter has reciprocated, dedicating an entire online post to the fan.
On his blog, John gives a shout-out to Richard Young, who created mystupidmouth.com, a fansite dedicated to the then-aspiring singer in which people "could share pictures, links, concert reviews, musical esoterica and anything [John Mayer] related."
And what better way to pay back a fan who supported you from the get-go? Well, by showing up at his birthday party unexpectedly, of course!
Of Young's page, which is still going strong, Mayer says, "I can't fathom why someone with as much energy and enthusiasm as Richard would continue to moderate his message board, but I think it has something to do with faith."
What a guy. No wonder the ladies love him.