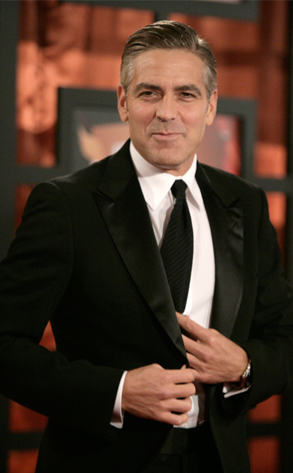 AP Photo/ Matt Sayles
George Clooney has always had a thing for barnyard animals. First, there was his beloved late pet pig, Max. Now, he's got a thing for Goats.
The Oscar-winning star will headline Men Who Stare at Goats, a supernatural flick about a secretive military unit specializing in ESP and telepathy.
Per Variety, Goats is based on the 2007 book of the same name by U.K. journalist Jon Ronson, who claims it's a true story, not some kind of X-Files ripoff.
The story purportedly revolves around the U.S. Army's First Earth Battalion, which was created in 1979 and sought to harness soldiers' paranormal activity. One of the tests included becoming invisible, walking through a wall and killing a goat just by staring at it, hence the title.
Goats had been circulating around Hollywood for quite a while, but it became the subject of a bidding war at Cannes this week, sparking the interest of BBC Films, Winchester and Mandate Pictures.
Grant Heslov, Clooney's partner at Smoke House Films production and cowriter of Good Night, and Good Luck, is slated to direct, but no word yet on when Clooney will get his Goats on.