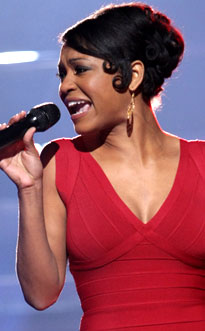 Frank Micelotta / FOX
No, Syesha Mercado wasn't exactly ecstatic about Happy Feet.
"It's not like I could change it," Mercado said of being required, per American Idol producers, to perform the penguin movie ditty "Hit Me Up" on Tuesday's show. "So, I could try to make the best of it."
Mercado, who was dismissed from Idol last night, one week shy of the finale, didn't pin her exit on the so-called producer's choice song, one of three she belted on Tuesday.
But, while upbeat in a conference call with reporters this morning, she didn't disagree with a suggestion that "Hit Me Up" wasn't a singer's song.