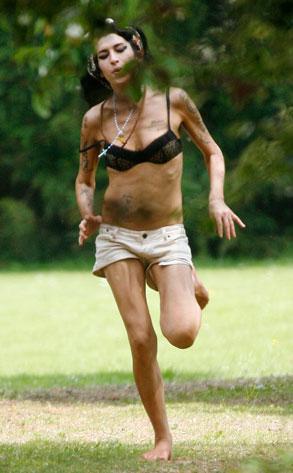 PacificCoastNews.com
The arm of British law apparently isn't long enough to snare Amy Winehouse.
For the second time in as many months, the trouble-prone Grammy winner has evaded formal charges following a police investigation, this time in connection with a video showing the singer talking about, and allegedly taking, drugs.
"Police have confirmed that no action will be taken against Amy Winehouse in relation to an investigation into a video handed to them in January," the singer's rep, Tracey Millers, told E! News.
"Amy is pleased to be able to move on and concentrate on music and particularly looks forward to seeing her fans again at eagerly awaited festival performances this summer."
The 24-year-old was arrested in connection with a series of seemingly illicit goings-on on the video, first shown on the Sun tabloid's website in January and subsequently handed over to London's finest, after voluntarily turning up for questioning at a police station a week ago.
After grilling Winehouse for nine hours over the footage, which showed the "Rehab" crooner inhaling fumes from a pipe of unspecific origin, the Metropolitan Police released her on unconditional bail. While she was originally ordered to return to the police station later this month, she is no longer obligated to do so as the matter has been deemed closed by the cops.
The singer wasted no time getting back into the swing of things Tuesday night, joining equally beleaguered pal Pete Doherty in London to celebrate his first solo postlockup gig.
Also worth celebrating: Both managed to make it to Wednesday without being busted again.