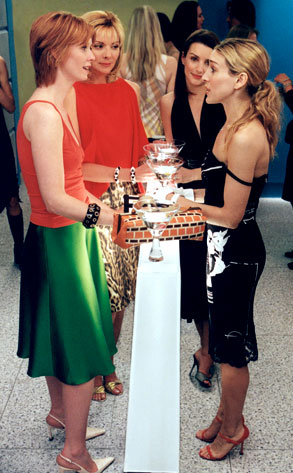 HBO / Craig Blankenhorn
HBO was right: It's not TV. If it were, it'd be a little cheaper.
The cable net has announced plans to make available its small-screen offerings on an even smaller screen as HBO programming finally makes its way to iTunes, albeit at a slightly higher premium.
Sex and the City, whose download debut not so coincidentally comes just in time for it to cash in on the film's buzz, will be available for the traditional $1.99 per episode fee, as will Flight of the Conchords and The Wire. But HBO has upped the ante for The Sopranos, Deadwood and Rome, charging their fans $2.99 an episode.
Guess not all shows are created—or priced—equal.
The shows debut online today, and in addition to HBO's bucking of Apple's otherwise uniform price policy, they will also break from tradition in terms of when the shows are made available for download to avoid undermining their pay cable service.
Unlike other broadcast and cable networks, HBO will not release individual episodes for iTunes download the day after they air. Their customers will have to wait until a given series' entire season is made available on DVD.