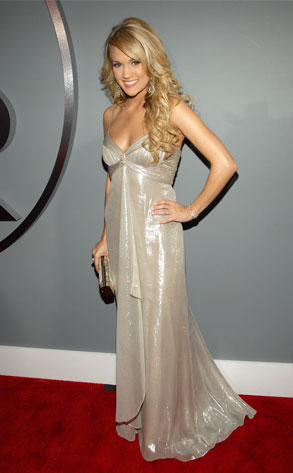 Kevin Mazur/WireImage.com
Adding another notch on her I'm-way-
more-successful-than-Kelly-Clarkson belt, country music sweetheart Carrie Underwood was inducted into the Grand Ole Opry Saturday night.
The American Idol season four champion and three-time Grammy Award winner told the sold-out crowd, "This really seems like a great family to be part of. I promise I'll do everything I possibly can to not make you regret it."
Country music star and Opry member Garth Brooks presented the award to Underwood, who is the current Female Vocalist of the Year for the Academy of Country Music and the Country Music Association. He told her, "Nothing will last as long or be more important than this award right here tonight. Congratulations."
Membership to the Opry is invitation-only and based on the artist's commitment to the show and overall contribution to country music. Underwood, 25, made her debut on the 83-year-old radio program in 2005, just two weeks after winning Idol. She's currently on the road headlining her Carnival Ride tour.