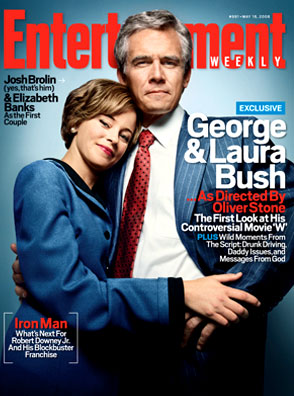 Platon
Oliver Stone hopes Dubya scores the popular vote come Election Day.
The maverick filmmaker has scored a deal with Lionsgate to open his George W. Bush biopic on Oct. 17, according to Variety, three weeks before the Nov. 4 presidential election. Shooting starts next week in Louisiana.
"We don't really know much about Mr. Bush beyond the controlled images we've been allowed to see on TV. This movie's taking a bold stab at looking behind that curtain," Stone says with typical humility. "I'm real pleased that Lionsgate has the independence necessary to bring this provocative story to an American audience."
In a new interview with Entertainment Weekly, the Oscar winner makes the biopic sound more knee-slapper than A&E-worthy examination.
"This movie can be funnier because Bush is funny. He's awkward and goofy and makes faces all the time. He's not your average president...It's almost Capra-esque, the story of a guy who had very limited talents in life, except for the ability to sell himself."
W stars an almost unrecognizable Josh Brolin eerily channeling the prez and Elizabeth Banks as his missus. The high-powered ensemble also includes James Cromwell (George H.W. Bush), Ellen Burstyn (Barbara Bush), Thandie Newton (Condoleezza Rice), Jeffrey Wright (Colin Powell), Scott Glenn (Donald Rumsfeld) and Ioan Gruffudd (Tony Blair). Dick Cheney has yet to be cast.

Apparently Darth Vader was unavailable.