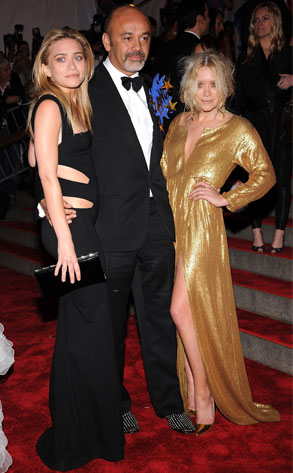 Dimitrios Kambouris/WireImage.com
It must have been Mary-Kate's headband that did her in.
Apprarently, when Maxim releases its upcoming Hot 100 List, Ashley Olsen will have made the cut, but not her twin.
Now, whether either of them should be on there is open for debate, but seriously, how do you choose one over the other? Who can even tell them apart in the first place? (We think that's Ash to the left at the Met Costume Gala with designer Christian Louboutin.)
What's more, sources tell the New York Post that not only does Ashley (at No. 47) smoke out her other half, she manages to rank higher than Jessica Simpson (No. 53), who, in turn, gets beat out by her sibling, Ashlee (No. 18).
No word yet on who takes the top spot, but let's hope, for her sake, she doesn't have a celebrity sister.