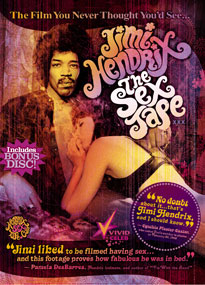 vivid.com / hendrixsextape.com
Jimi Hendrix's bedroom jam is apparently a sham.
The family-run Seattle-based firm that controls Hendrix's music says a sex tape purported to feature the guitar god engaging two foxy ladies is a fake.
"We strongly dispute the claimed authenticity of the tape," Experience Hendrix said in a statement. "We view the release as nothing more than a callous attempt to trade on the image and reputation of a deceased artist who is unable to defend himself against such an outrageous and baseless assertion."
Vivid Entertainment, a Los Angeles-based porn purveyor, announced this week that it had acquired 40-year-old footage from an anonymous collector and turned it into a DVD and digital download creatively titled The Jimi Hendrix Sex Tape.
Vivid claims it hired experts to confirm Hendrix's identity, but several of the music icon's ex-girlfriends have come forward to dispute the tape's authenticity. In the 11 minutes of rompage, the bandanna-sporting man's face is barely seen.
Fake or no, Vivid's "sexumentary" hits stores next Tuesday.