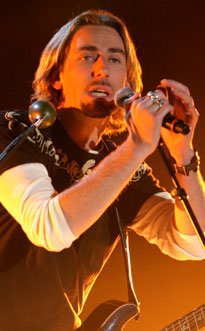 Rolf Klatt/WireImage.com
The long legal road for Chad Kroeger has dead-ended in court.
The Nickelback frontman was sentenced today in his native Canada to a one-year driving suspension and a $590 fine stemming from a two-year-old drunken-driving arrest.
Kroeger, 33, was behind the wheel of his Lamborghini on June 22, 2006, when police in the Vancouver suburb of Surrey, British Columbia, pulled him over at about 2 a.m. for speeding. Officers said they detected alcohol and administered a Breathalyzer test, which registered a blood-alcohol level of 0.14, almost twice the legal limit.
His lawyer had previously tried to throw out the test results due to an illegal search and seizure by police, but the judge nixed the motion.
The rocker, born Chad Robert Turton, told reporters after the hearing that he doesn't endorse drinking and driving, though he noted, "Everyone makes mistakes."
He plans to appeal...presuming he can get a ride to the courthouse.