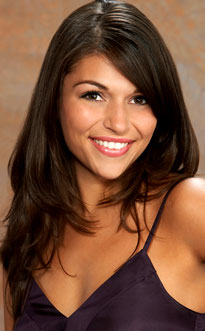 ABC/Kevin Foley
There's one name by which a rose can smell a little sweeter—when they're being handed out by a dumpee-no-more.
Bachelor also-ran DeAnna Pappas, who was rejected at the last minute by Brad Womack for all the world to see last fall, will return as ABC's fourth star on The Bachelorette when the romance reality show kicks off May 19.
The 26-year-old brunette Georgian real-estate agent quickly became (ABC publicists assure us) a "fan favorite" when she competed for Womack's attentions last year, only to be rebuffed alongside fellow finalist Jenni Croft, when the so-called gentleman pulled a Kelly Taylor and chose himself in the series finale, opting to stick with the singleton lifestyle.
In addition to the inherent pleasure associated with 25 men battling it out for Pappas' affections, this season will also feature a backstage visit to The Ellen DeGeneres Show, a private concert by Natasha Bedingfield and a dream date for a select few bachelors to Dodger Stadium to meet with Hall of Fame former manager Tommy Lasorda.
Sounds like it's not just figurative hardball the suitors are playing this year.