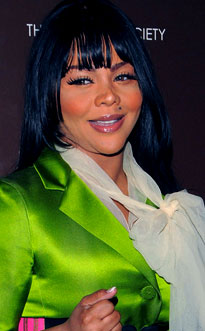 AP Photo/Peter Kramer
Maybe Lil' Kim should have used her "Magic Stick" to ward off the repo man.
Two repo types showed up on the raunchy-rap star's doorstep recently, demanding she hand over the keys to her silver Bentley after falling four months behind on payments and ignoring a recent warning. All of which was captured on camera by New York station WPIX-TV for a CW11 News segment on how to protect yourself from repossession.
Kim told the gentlemen she'd "have her accountant take care of the problem" and then told 'em where to go. (She then told the reporters who approached her for a reaction, "Oh please, get the f--- outta here. You are so f---ing ridiculous.")
"She didn't wanna cooperate," repo man Cyro Miranda put it mildly. "Basically, she told us to get off the property. We were hoping that she'd give us the keys, being that it'd be the right thing to do. It's not her vehicle."
Kim's rep, Tracy Nguyen, confirmed to E! News that the luxury car was a gift, given to the hip-hopper four years ago.
"This matter is currently being resolved and is completely out of Kim's hands," she said.