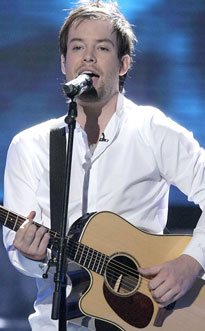 Frank Micelotta / FOX
Don't miss one song—or one note of British sarcasm—with our performance-show liveblog:
The five remaining American Idol aspirants will double dip into the prolific songbook of guest mentor Neil Diamond. Now that their numbers are dwindling, each finalist will take on two of the "Sweet Caroline" crooner's standards.
(Yes, we're mourning the premature departure of Carly Smithson—like her personality or not, the lass never sounded bad—but we're just going to have to press on.)

Anyway, we know Kristy Lee Cook would have gone with "America"—she was crafty, wasn't she?—but prepare to be reacquainted with some old favorites, as well as a whole host of tunes you had no idea belonged to Diamond and some tunes you probably never heard before but your mom just loves.