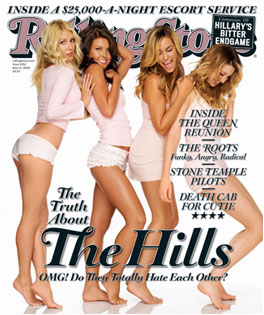 Rolling Stone
How did Rolling Stone get sworn enemies L.C. and Heidi into the same room for this undie-tastic cover? We're guessing it took ego soothing, cajoling and the mediation of several presidents—particularly the dead kind.
Or else some major Photoshop skills.
In any case, this Nair ad gone wrong features Whitney looking for her fallen contact lens, Lauren pretending to have fun, Audrina pretending she's naked (she's more comfortable that way) and Heidi suppressing the need to pee. Can I go now, Spencer?

It'll probably sell wildly well. Or not at all. We're kinda praying for the latter.