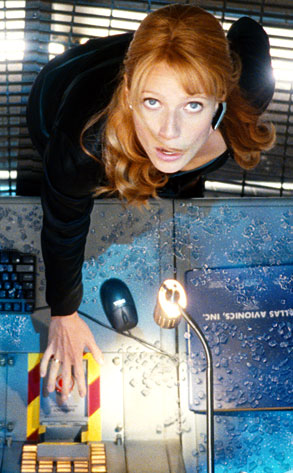 Industrial Light & Magic
It makes sense. No, really it does. Making a big, loud summer movie about an arms dealer-turned-superhero is good for new moms. Just listen to Gwyneth Paltrow.
The still-new mother of two made Iron Man her first major role since shooting Proof in 2004, when she was pregnant with her daughter, Apple.
"Why not?" she tells E! News this week, explaining her easy action-flick schedule. "It's great. They have you for this many hours, and you can go home and sleep."
When her son Moses was 1, the part of Pepper Potts, right-hand-gal to Robert Downey Jr.'s Tony Stark (aka Iron Man), came along. Director Jon Favreau reeled her in.
"It was just the perfect job for me," Paltrow says. "I was back in California in the house that I grew up in when I was little. It was just before my mother sold it, and I was with my kids."
She worked two or three days a week—cake for an actress used to more serious roles. "I felt that I was with [Apple and Moses] more than I was at work," she says. "When I went to work, I had so much fun."