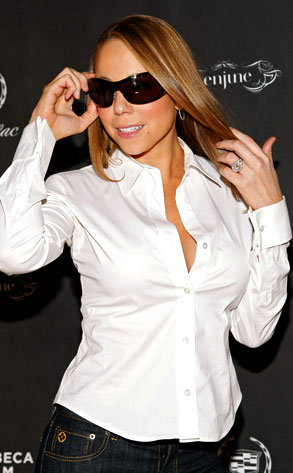 Brian Ach/WireImage.com
Mariah Carey was spotted wearing a diamond the size of our fist on her ring finger at the Tribeca Film Festival this weekend and holding hands with Nick Cannon at an after-party at Tenjune.
So is she engaged? Her reps won't say, but that won't stop us from speculating about what a Mariah wedding would look like:

The ceremony will take place on a rainbow. The bride will wear white and the groom will be dressed as Hello Kitty. Guests will learn their seating assignments by selecting Angel cards, trained butterflies will pass out hors d'oeuvres and everyone will get to take home a mermaid.

If you see carrier doves flying like mad all over L.A. and New York, know that invitations have gone out.