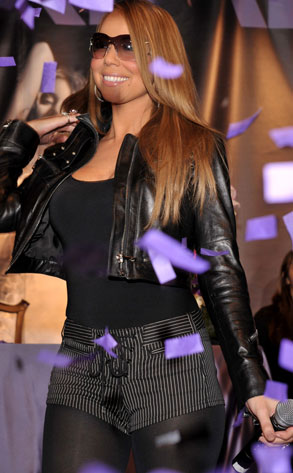 Lester Cohen/WireImage.com
She's no Einstein, but Mariah Carey can certainly add up the numbers for a nuclear chart-topping debut.
Carey's E=MC2 energized the charts, giving the pop diva her sixth No. 1 album and delivering her biggest sales week of her career with 463,000 copies for the week ended Sunday, per Nielsen SoundScan.
Carey is now tied with Madonna for the second-most No. 1 albums by a female artist, with both superstars trailing Barbra Streisand's eight. E=MC2 also topped Jack Jackson's Sleep Through the Static (375,000) as the biggest bow of the year.
It's been a historic year for Carey. The E=MC2 single "Touch My Body" topped the Hot 100 earlier this month—her 18th No. 1. She now ranks only behind the Beatles, who scored 20 U.S. chart-toppers. "Touch My Body" reigned for two weeks, tying her with Elvis for the most weeks spent at No. 1, with 79.