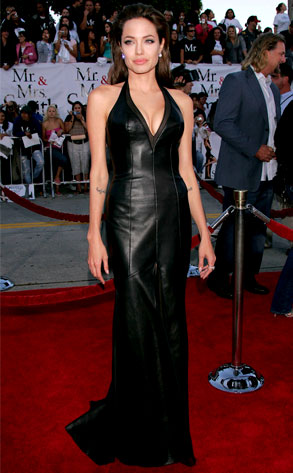 Lisa O'Connor/ZUMAPress.com
Many stars, such as Angelina Jolie, are covered in tattoos. How do they deal with these for films? Are they covered with makeup, or are they removed digitally afterward? If the latter, that sounds like a lot of expensive extra work.
—Ron, Toronto
You have every reason to suspect digital retouching, given how besotted filmmakers are with it these days. Those Beowulf people had the real Angelina Jolie willing to appear in their movie, and they turned her into a rubber doll with a tail instead, just because they could. (There are guys out there who have played perfect games of Halo 3. Oddball, too. Doesn't mean I need to see it.)
The answer to your question usually involves no computers but rather good, old-fashioned movie makeup. The kind so thick neither light nor single-celled organisms may find hope of escape.
Lord forbid that Travis Barker go ahead and make a movie, but, say, Jessica Alba's Sanskrit wrist tattoo, which, I believe, was nowhere to be found in Good Luck Chuck? Or the disappearances of La Jolie's superdetailed arm tats for The Good Shepherd? That's pretty typical work, I am told.
"The darker the tattoo, the more difficult it is to cover," explains Leonard Engelman, director of education at the Cinema Makeup School in Los Angeles, as well as the governor of the makeup branch of the Academy of Motion Picture Arts and Sciences.
Still, he says, "two types of makeup we might use are made by Dermablend or Kryolan. They have so much pigment you can use a very thin amount and it would easily cover it."
Digital retouching is still too expensive to be considered for most films, he says.
A good makeup artist knows how to blend those formulas on the spot during a shoot to make the cosmetics exactly match the skin.
However, to give the makeup artists extra time, actors often come in before shooting starts for what's known as a makeup test. The actors get made up and do some test shots to see how things look, and artists can adjust their formulas accordingly—before a single frame gets shot.
"Most of your larger movies have film tests like that," says Engelman, who has worked on movies ranging from The Princess Diaries to Batman Forever.
So, go ahead, Angie, get a full set of sleeves. The makeup people have your back. And your front. And your arms. And your legs.