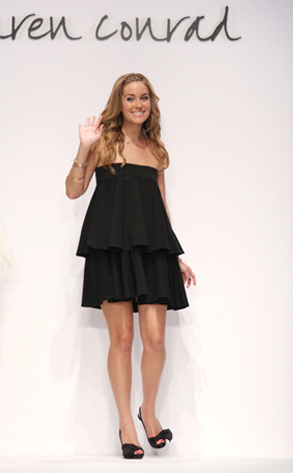 Elevation Photos/Photoshot / Zuma Press
Are there any stars left that don't have their own fashion line!? Avril Lavigne recently announced one. How do they get them, and do they really sit down and design?
—Jessica, Calabasas, California
Most celebrity fashion lines:
Aren't really celebrity
Aren't really fashion
And—OK, let's cave a little. They are indeed "lines."
Instead, some company, usually a manufacturer based out in warehouse country, approaches a star who has captured a certain crowd. The company licenses the right to use a celebrity's name on a clothing brand. The star usually has to agree to appear in ads and promote the clothes, in exchange for a percentage of the sales.
And that's largely it, according to an industry insider who spoke to this B!tch. Some nameless designer steps in and does most of the work. And aside from maybe looking at swatches and gurgling "pretty," that's all the starlet has to do to have a fashion collection.
There are exceptions, of course.
Gwen Stefani has partnered with a very talented designer to create her L.A.M.B. line, which is highly respected in the biz. Mandy Moore has a reputation for being more hands-on than most celebrity designers—she allegedly started her Mblem line because she was having trouble finding T-shirts to fit her long torso.
And Lauren Conrad, like Nicky Hilton, actually bothered to go to fashion school before venturing onto a catwalk.
Even Jessica Simpson has been given credit by one of her manufacturing partners for being more than just a marketing dingbat.
"She will come off a plane from London and sit here for 10 hours approving designs," Vincent Camuto of the Camuto Group told WWD last year. "Nothing gets into the store without her approval."
How reassuring. Because if there's one celebrity whose fashion guidance I crave, it's hers.