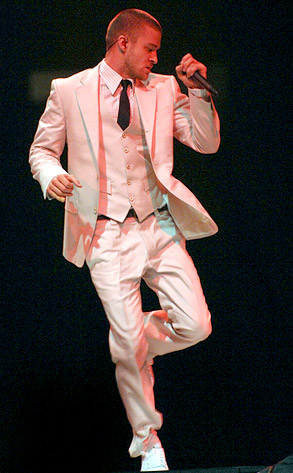 Kevin Mazur/WireImage.com
I hear Justin Timberlake just donated a bunch of money to a U.S. charity. Is America the new Africa?
—Annette, Long Island
Well, gee, Paris Hilton did just canvas a South African children's shelter with photos of herself in a bikini. So if you're any sort of waif living near there, take heart. Looks like Hollywood still has you covered—in cheesecake, at least.
Some charity watchers insist that we are, in fact, witnessing a swing in Hollywood charitable giving—away from Africa, and closer to home.
As you mentioned, Justin Timberlake just gave $200,000 to fund music-education facilities in his home state of Tennessee. Brad Pitt has thrown his rather long shadow across New Orleans' Lower Ninth, helping rebuild homes for victims of Hurricane Katrina. And Katherine Heigl recently partnered with Clothes Off Our Back to auction off her red Escada Oscar gown to benefit both America's Second Harvest and African scholarships—among other charities.
Does it add up to a shift in trend? Some people think so.
"I would say there is definitely a trend in coming back to America," says Tim Saunders, a writer for Look to the Stars, a blog that follows celebrity giving. "Especially with elections coming up, people want to be more patriotic."
But then again, I see no downshift in international giving, at least when it comes to guilt-ridden white stars.
George Clooney just delivered another teetering pile of cash to the World Food Program, aiming to bring fresh aid to Darfur. Charlize Theron just launched a mobile AIDS-awareness clinic that tours around her home turf of South Africa. Look to the Stars still lists the Red Cross, Unicef and other international organizations as top beneficiaries.
And Britney is auctioning off her wardrobe from How I Met Your Mother to benefit the Natural Resources Defense Council, which aims to save the whole planet, particularly by speeding the greening of China. (One of her rust dresses is fetching bids upwards of $900. That's a lot of tree seedlings and baby pandas.)
So, until Kim Kardashian decides to film a very special episode of her reality show on the heroin-blasted streets of West Baltimore, I would say Africa is still the new Africa.