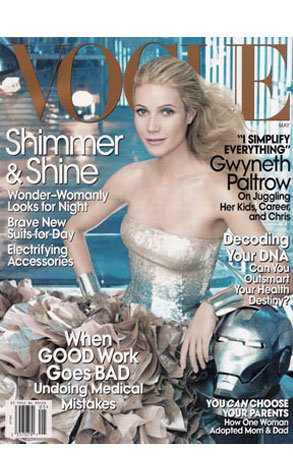 Vogue
Gwyneth Paltrow may seem to have the perfect life, but things aren't always as rosy as they appear.
The Oscar-winning mother of two is opening up about her battle with depression after giving birth to her and rocker hubby Chris Martin's second child. "You know, I had postnatal depression after Moses," Paltrow says in the new issue of Vogue. "I didn't know I had it until after it was over. I just didn't know what was wrong with me...I felt really out of my body. I felt really disconnected. I felt really down; I felt pessimistic."
Paltrow believes part of the cause was that she dropped some of her regular prebaby treatments, like acupuncture and massage. Now with the depression behind her, Paltrow has returned to work. She'll next be seen in Iron Man, opposite Robert Downey Jr.