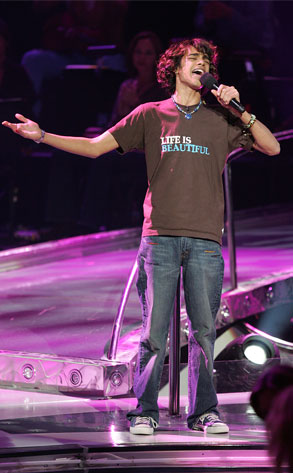 Frank Micelotta / FOX.
For American Idol, Sanjaya is the curse that keeps mucking things up.
Since the one who needs no last name was asked to turn in his mic last year, Tuesday's Idol has lost, on average, nearly 1.5 million viewers. Wednesday's Idol has shed nearly 3 million.
Last week, the curse seemed especially, if cruelly, effective, with Idol Gives Back, the franchise's charity fundraiser, drawing the least number of viewers for an Idol-related telecast in more than four years.
Notably, it was on the occasion of the first Idol Gives Back that the Sanjaya effect was first felt.
On April 18, 2007, the night the singing hairdo turned hot topic was voted off the show, the show averaged about 29 million viewers. One week later, on a Sanjaya-free April 25, the show was down 2 million viewers, despite the promise of the latest results and the lure of an all-star Idol Gives Back lineup.
In all, from the time Sanjaya left the show through the end of last season, Idol lost 1.7 million viewers on Tuesday, and 1.3 million on Wednesday.
In 2006, when Sanjaya's faux-hawk was not yet even a glint in some hairstylist's eye, Idol basically remained even on Tuesdays from mid-April through the end of the season, and grew by about a half-million viewers on Wednesdays.
To be sure, the Sanjaya curse has only been partly successful in blunting Idol. The show remains the No. 1—and No. 2—show in all of TV, and the latest Idol Gives Back telecast raised a reported $60 million.
The real Sanjaya, meanwhile, could probably use a reverse curse or something to jump-start his own career.
Here's a look at the 10 most watched broadcast network prime-time shows for the week ended Sunday, according to Nielsen Media Research:
1. American Idol (Tuesday), Fox, 24.7 million viewers
2. American Idol (Thursday), Fox, 20.1 million viewers
3. CSI, CBS, 20.09 million viewers
4. Dancing with the Stars (Monday), ABC, 19.7 million viewers
5. NCAA Men's Basketball Championship (Kansas vs. Memphis), CBS, 19.5 million viewers
6. Idol Gives Back, Fox, 17.8 million viewers
7. Dancing with the Stars (Tuesday), ABC, 17 million viewers
8. Desperate Housewives, 16.4 million viewers
9. Without a Trace, CBS, 14.5 million viewers
10. NCIS, CBS, 14 million viewers