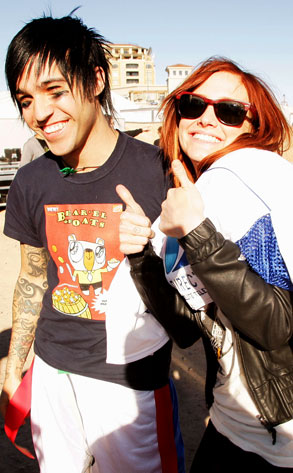 Chris Polk/WireImage.com
Ashlee Simpson's new album drops next week, but her biggest project to date will take a little longer to incubate.
The freshly betrothed "Pieces of Me" warbler and Fall Out Boy fiancé Pete Wentz are expecting their first child, a source close to Simpson told E! News.
"It's very early" in the pregnancy, the insider said, adding that Simpson, 23, and Wentz, 28, informed their families of the impending stork delivery just last week. Over the weekend, the couple began divulging the happy news to a few close (and apparently loose-lipped) friends.
Wentz, however, quickly called foul on the pregnancy reports, denying that there's any "shotgun" involved in their upcoming wedding.
"There is a witch hunt for people to be pregnant whenever they get engaged in Hollywood," the rocker wrote in an email to MTV News. "This is all news to me. I can't wait for the story about how I'm really in a gay relationship and this is all just a cover."
"I mean really, this is crazy...I mean we're engaged, that's true, and happy about it."
When asked specifically if he was denying that Simpson was pregnant, Wentz replied, "Yeah."