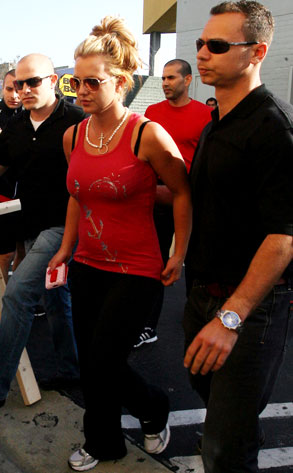 Fame Pictures, Inc.
The verdict is in on the Britster's parenting know-how.
But we're just going to have to wait a little bit longer to find out if she gets a thumbs up or thumbs down from the court.
E! News has confirmed that a child custody evaluation report detailing the pros and cons of Britney Spears' mothering has been completed.
The report, commissioned by a Los Angeles family court in Spears' ongoing battle with ex-hubby Kevin Federline over young sons Sean Preston and Jayden James, was filed Friday by Dr. Jane Shatz.
Lawyers for both Spears and Federline declined to comment on the substance of the document.

While no specific positives or criticisms have been made public, the report's findings are expected to get a full airing at the next hearing in the case, set for May 6, when attorneys are planning to debate merits of a modified custody arrangement.
Spears, who has typically avoided courtroom showdowns in the matter, may actually show this time to defend herself.
—Reporting by Claudia Rosenbaum