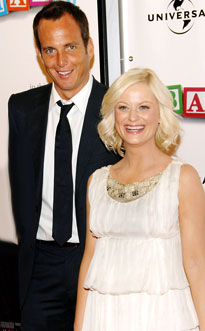 AP Photo/Evan Agostini
We never would have pegged Amy Poehler as one to go Method, but there it is.
Fresh off the No. 1 box-office berth of her film Baby Mama comes word that the Saturday Night Live jokester is expecting her first child with equally funny hubby Will Arnett.
The duo's rep, Lewis Kay, tells E! News that the child is due sometime in late fall.
An exact date has yet to be announced, and it's unclear if the pregnancy will prevent Poehler from being back in time for the traditionally late-starting season of SNL.
Poehler, 36, and Arnett, 37, tied the knot in 2003.
Despite the newly maternal-minded star having endured a series of biological clock-related queries while hyping the Tina Fey-penned comedy (as well for her new Nickelodeon kid-friendly 'toon, The Mighty B!), Poehler managed to refrain from revealing the duck-in-the-oven news until now.
She was less tight-lipped about disclosing what a banner mother she would be should little ones be in her future, however.
"I'm great with kids," she told the New York Daily News earlier this month. "I think I'm still a big giant kid. I understand them and usually we're the same size. I think I understand the way they look up at the world. I get it."