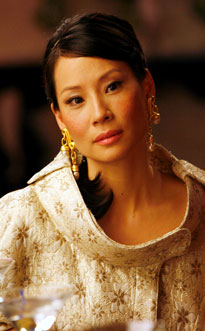 ABC/PATRICK HARBRON
Dirty Sexy Money may soon be skipping to the Liu.
Lucy Liu's publicist has confirmed to E! News that the TV vet is in negotiations to join the cast of ABC's returning drama as a series regular.
"It's true," the rep said.
Liu was last seen on the network's much-hyped, meagerly watched midseason series Cashmere Mafia. Liu's Dirty work apparently hinges on whether Mafia is consigned to the tube trash heap in the coming weeks.

Dirty Sexy Money already counts Donald Sutherland, Peter Krause and Blair Underwood among its starring ranks.
Liu's presence would help make up for the loss of first-season regular Samaire Armstrong, who was bounced by producers for the second go-round.