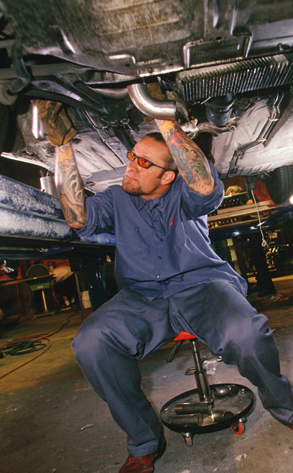 Gilles Mingasson/Getty Images/Discovery Channel
Are there are few demons lurking in Jesse James' monster garage?
A Nebraska man has sued the West Coast Choppers CEO, claiming Sandra Bullock's motorcycle-pimping hubby agreed to custom build a vintage Cadillac for him for a certain price and then backtracked on his original estimate and never delivered the goods.
Per the lawsuit filed Wednesday in Los Angeles Superior Court, in 2005, Michael P. Jones enlisted James and his company to customize a 1949 Cadillac Sedanette for between $250,000 and $350,000. (Check out a picture of a similar vehicle.)
James and his colleague at the time, Chris Smith, verbally agreed to the sum and James said that he would personally supervise all of the work, the suit states.
But while Jones made all of the required payments, he says that by the spring of 2007 all he had was the promise of a dazzling ride. When he asked James about having the Caddy ready in time to compete for the prestigious Don Ridler Award for car-building creativity, the Discovery Channel star told him the job could end up costing as much as $700,000.