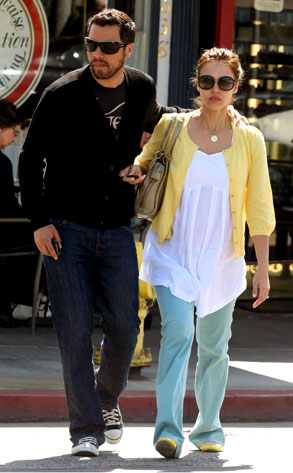 Gaz Shirley/Bret Thompsett, PacificCoastNews.com
In an astonishing act of brazen, motherly thievery, Jessica Alba has admitted that she "stole" her newborn child's name from a friend. And in an even more shocking turn, the ripped-off name is Honor. Oh, the bitter, bitter irony.
Yet the treachery doesn't stop there. In fact, it seems larcenous acts run in the family, and they start damned young. "She has my mouth," exhorted Alba of her child, an infant seemingly hell-bent on inter-family body pilferage. "And my ears," the newly hearing-impaired mother revealed.
Apparently the barbaric incidents have sent father Cash Warren over the edge. "I want her to look like me," demanded the stunned, seemingly unhinged patriarch. "Because a daughter looking like Jessica, I'd kill myself!"