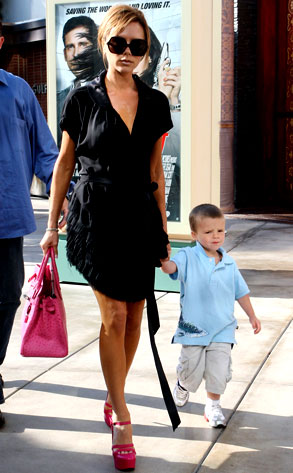 FAME PICTURES
• Apparently, Posh Spice wears "standard-issue aircraft pyjamas" when flying. Seriously? No one ever offers us those on our flights.
• Lauren Conrad is the latest famous person to be accused of cottage cheese thighs. Somewhere out there Heidi is ROFL in her string bikini.
• Blake Lively is super pissed about her recent Seventeen cover. Meanwhile, a Lucky cover featuring onscreen BFF/off-set enemy Leighton Meester is flawless. Gossip Girl better get to the bottom of this.
• Lenny Kravitz "looked like he was going to throw up" when he heard he was being accused of having an affair with A-Rod's wife.
• Amy Winehouse continues to punch people, including her bodyguard and some random guy at a pub.
• This Sunday at 7:55 p.m., the High School Musical 3 trailer will premiere on the Disney Channel. How do we make the days go faster?