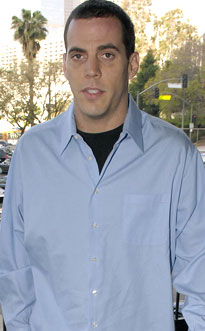 Toby Canham/Getty Images
Maybe working for Steve-O has made his bodyguard forget that most people don't enjoy the occasional blow to the head.
A former security guard has sued the Jackass daredevil and his muscle, Reggie Pace, for assault and battery, claiming Pace punched him when he refused to let their entourage into a West Hollywood boutique last summer.
"It's all about getting justice," Joseph Barrett, attorney for the plaintiff, Roland Cano, said in a statement Thursday. "Steve-O may believe he is someone special who can make his own rules, but he will learn that the same rules apply to him. He can't hide behind his friend in this fight."