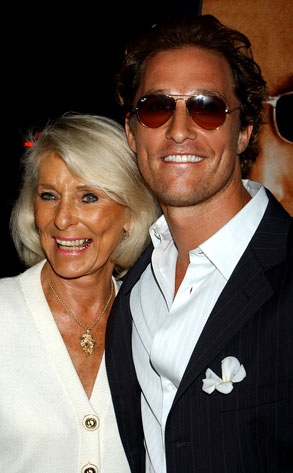 AP Photo/Tammie Arroyo
• Matthew McConaughey's mother has a book coming out called I Amaze Myself, in which she writes about Matt's dad dying during sex and then not covering his corpse because she "was just so proud to show off [her] big old Jim McConaughey—and his gift." Awesome or disturbing?
• Michael Phelps isn't the only one with endorsements and management. Apparently, his mom, Debbie, is all over that stuff, too, and Chico's wants in on it.
• We refuse to participate in any Jessica Biel baby bump speculation, except to alert you of its existence.
• Favorite Jennifer Aniston tabloid report of the day (so far!): Jen was on a revenge tour this past week in NYC, making sure everyone saw her smiling and looking sexy.
• About that black eye Kelly Osbourne debuted yesterday. It was actually the result of a kitchen cabinet falling on her face. She's OK, though.