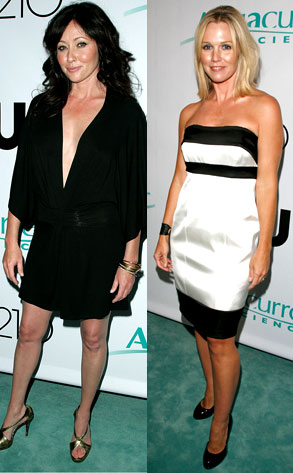 Jason LaVeris/Getty Images, Jean Baptiste Lacroix/Getty Images
There's no better place for a Beverly Hills 90210 bash than...Malibu? Wrong ZIP, but right piss-ass 'tude. Super egos and superficiality are never geographically specific. Our very own private eyeballs were, yes, on the scene in the 'Bu last weekend when the 90210 stars, new and old, came out to celebrate another year of H'wood running out of fresh ideas.
Unless you count an African-American kid joining the cast and some better hairstyles, that's about as updated as it gets.
Visions for nostalgic eyes included Shannen Doherty and Jennie Garth, both slated to star in the new season, 'course. Shan-doll donned a black dress with a plunging neck, a good wardrobe choice for someone either known for being a bitch or a witch (on Charmed, of course). Jen-hon, who never said no to any attendee desiring a pic with the Kelly Taylor, was rockin' her new Dancing With the Stars-trained bod, wearing a slinky black 'n' white strapless number with some serious stilettos.
Def the Aaron Spelling gal that's aged the best since, sorry Tori. You didn't actually think you were going to win that one, did you? Flitting from marriage to marriage, will-bashing episode to the next, penning blab-all tomes, babes, that stress stuff ages the puss pronto!
S.D. musta figured that her comeback was being trampled by a way foxier femme 'cause she and J.G. spent the whole soiree mingling on opposite sides of the room. Wonder if both gals knew the claws would come out if they laid their eyes on one another off-set? We so hope Brenda and Kelly get into fisticuffs within the first five minutes of the pilot.
We'd consider that appointment television right there, wouldn't you? Naturally, you would. Are we forgetting somethin' here, though? Oh, right, all the fresh faces of the 90210 new class. The glam gang went virtually unnoticed the whole night—guess it's hard to tell one actor from another in a giant party crowd.
That'll probly change superquick once the show hits the tube—who knew what a Chace Crawford or an Ed Westwick was before Gossip Girl started making tween waves? Now we can't go to any H'wood hang without running into one of those dandy-lookin' G.G. prancers. Watch out, Gossip guys 'n' gals, you've got some just-as-pretty ass-candy headed your way in the fall. Yummy overload, look out!