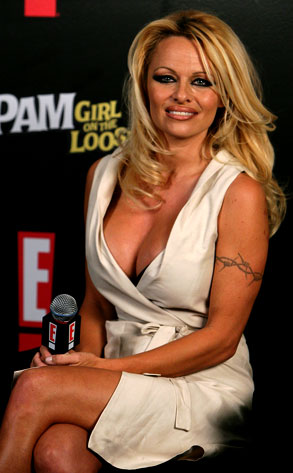 Don Arnold/Getty Images
Pam Anderson just makes it too easy—in a lot of ways, actually, but mostly in the cleavage department.
Is one supposed to start covering up more once one trudges through one's forties (not that I would know crap about that, at all)? Or is one better suited to start letting it all hang out before all the equipment simply drops to the floor?
Pam-poo's a tough call here. If she threw on a cowl-neck cashmere or a stiff-ass Chanel suit once in awhile, those poppin' babies would be all the more welcome once in a while. But 24-7 Stripperella wear? Doesn't it kinda machine-gun the mood? Sharon Stone, dare I pay the bitch a compliment, is genius at going back 'n' forth between the virgin-AARP-slut thing, and I must admit it works. At least for her sexuality, not her movies.
So try out a few virginal threads once in a while, P.A. You'll be amazed at how rehorned up we'll all feel, promise.