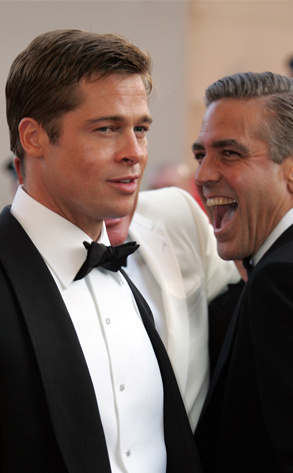 Tony Barson/WireImage.com
Brad Pitt and George Clooney aren't just going to look good in Venice, they're going to do good in Venice.
Both leading men are set to light up the Lido Wednesday night, walking the red carpet as their new Coen brothers flick, Burn After Reading, opens the 65th Annual Venice Film Festival. But the dynamic duo have actually arrived ahead of schedule to appear at a fundraiser for their pet charity project, Not On Our Watch, later tonight.
The Darfur-benefiting charity, which also counts Ocean's costars Matt Damon and Don Cheadle among its founders, will take center stage tonight, when Clooney and Pitt will be on hand to discuss humanitarian and advocacy issues that are of importance to the organization, while simultaneously schmoozing Italian glamourpusses like only they can to boost the foundation's bank roll.