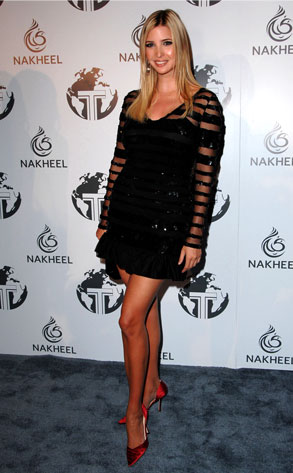 Steve Granitz/Getty Images
It's not that Ivanka Trump is grotesque by any means, seen here at daddy Donald's Trump Hotel & Tower Dubai shindig in H'wood Saturday night. But something about I.T. attempting to pull off sexy never seems quite right to our eyes.
Maybe it's her father's somewhat grasping genes subconsciously poking through? Tho the blonde resembles Brooke Hogan more than her pops here, we don't know which look is worse.
Iva-babe's face is beautiful, fer sure (besides the dead-doll gaze), but the gothy frock looks like a glammed-up version of a jail uniform. Horizontal stripes do not look slimming on anyone, Iva-hon, not even you. And the girl's got great gams, but the red heels don't work with the rest of the dreary ensemble. It's still summer, sweetie—lighten up, would ya?
—With additional English-screwing reporting by Taryn Ryder