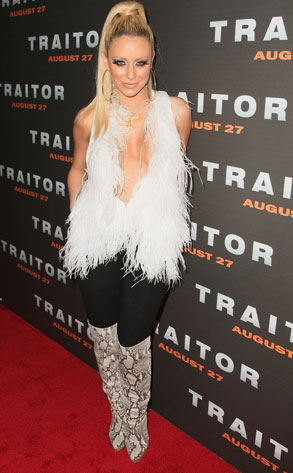 Andrew H. Walker/Getty Images for Overture Films
Not even Mariah's personal retoucher could help Aubrey O' Day look do-me decent here at the Traitor premiere in New Yawk. The Danity Kane doll's I Dream of Jeanie updo is an updon't, fer sure.
Stay away gents, 'cause this genie ain't such a dream.
AOD is far from a full-figured gal, but you'd never know from those skanky snakeskin boots over those leggings, so not flattering (to our eyes or Aub's gams). We sure hope no birds were put on the endangered list in the process of making that trailer-trashtic frock—the chick is two plucks away from taking over Bai Ling's top spot as Red Carpet Sleaze.
—With additional English-effin' reporting by Taryn Ryder