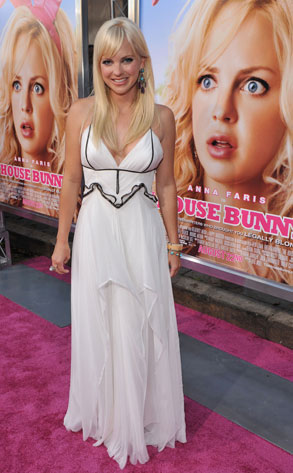 Lester Cohen / Getty Images
Once Rumer and her Willis roundup got out of the way, the real star-worthy celeb was able to shine at The House Bunny premiere: funny femme Anna Faris, who had a street full of Scary Movie fans foaming for her autograph. A.F. is a one-of-a-kind comedian who plays convincingly every time, from a ditzy Cameron Diaz-type in Lost in Translation to a confused cannabis aficionada in stoner flick Smiley Face.
"That's my parent's favorite movie!" Anna said of the pot-friendly pic. Wish our folks were as liberal as Ann-doll's growin' up.
What led the hilarious hottie to star and exec produce this par-tick Playmate pic? "I felt like I was hitting a bit of brick wall, and I wasn't able to play the roles I wanted to play," piped A.F. "So I felt like, OK, I have to be a bit proactive and create my own." By being a role model for little gals, posing as a regular at the Playboy Mansh, aka, the House that Porn Built? "I wanted to be careful about not passing judgment on anybody," explained Anna. "And whether you choose to live that lifestyle or become a professor of mathematics, I wanted to make sure it was about finding what makes you happy. And my character is a role model because she has a heart of gold."
Hey, didn't Julia Roberts already pull this politically correct merde with Pretty Woman? Yeah, whatever, we love our Anna.
—With additional English-effing reporting by Becky Bain